More details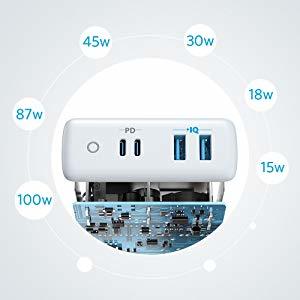 Yes that seems to be case from this:

So you see there a 20V 5A 100W mode, so yes single port used gets 100W.
The lack of clarity is how it shares it "intelligently". Assuming these are all the PD modes then imagine two PD devices, well then you're looking at a little wasted power because for example two ports at 15V 3A 45W leaves 10W wasted. So if you used 2 PD ports you'd need something wanting no more than 10W to be happily using all the power.
You can imagine say you had one PD device and something non-PD well if these specs are the full information than that 20V 5A 100W has no choice but to come down to 45W and the simple act of plugging in anything to that Type A ports which cannot take more than 5V 2.4A 12W means you are using at most 45+12=67W so 33W are wasted.
So there must be more to this than the Amazon blurb. They must be keeping voltages at these discreet levels and reducing current to not have wasted power?
The issue then is the interoperability with the PD devices, imagine Anker in the 1 PD + 1 A scenario gave 12W to the A port so 88W left at PD port well you'd to give out 4.4A 20V not 5A 20V, so how would the device feel about only 4.4A at 20V? Would it then decide itself to go down to 15V and so only take 45W and not 88W?
At this point we need the product in hands of reviewers, with USB PD meters and lots of PD devices and measure.